Last Updated on June 9, 2022
Not every ring will suit every hand and choosing an engagement ring can sometimes be confusing. Sometimes we overlook whether the ring suits the fingers of the wearer.
If you do have longer fingers then you're in luck! This is our list of the perfect engagement rings that would fit your needs.
What Are The Best Engagement Rings for Fat Fingers?
There's a wide range of ring selections that look great on chubby fingers. We're going to talk about the best ring designs for you.
Flawlessly romantic with a classic feel. This three-stone design engagement ring is perfect for visually slimming your finger.
The stones provide adequate coverage for wider fingers. They are perfectly shaped, providing perfect balance between the height and width of the finger.
This is the perfect ring if you want to de-emphasize the width of your fingers.
This striking ring features a lavish halo of sparkling diamonds, making the overall setting appear elaborate and luxurious.
This ring also features a double shank, adding a good amount of sparkle and brilliance to its design. This stunning ring can grab everyone's attention and can hide the negative side of your finger.
The design of this ring is best suited for chubby fingers as it creates the illusion of being a wide setting without being bulky.
You don't have to worry about people noticing the shape of your finger since their eyes will be focused on this sparkling statement.
This teardrop shaped diamond ring can distract people's attention from the width of your finger and instead draw attention to the gorgeous style of the ring.
Such unique design stands out while providing coverage on the skin showing and perfectly suiting a wide finger.
Geometrical and asymmetrical ring settings can catch people's eyes right away. The shank of this lavish ring also features pave diamonds on each side. This is perfect if you want a sparkly ring with a unique design.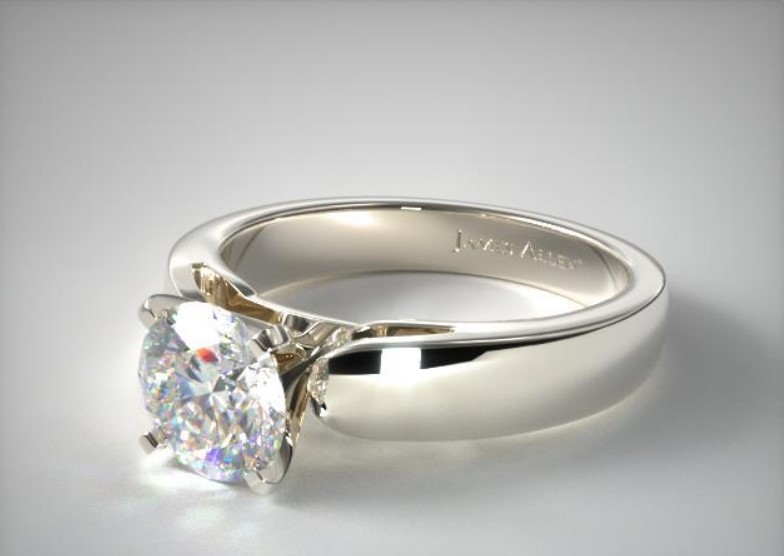 This classic style ring has a wider band making it perfect for your finger. It will make your finger appear slimmer.
The width of this ring is 3.80 mm so it has the substantial feel of a wide band. The good thing about the ring is the band itself has so much space, hence, there are many wonderful ways to embellish it. You can customize it according to your style and taste.
What engagement ring looks best on fat fingers?
Narrow stones will make wide fingers look even wider, so it's safe to choose a wide oval, marquise, rectangular or emerald shape. Round stones in larger settings can make those fingers look slimmer.
What ring size is chubby fingers?
If you have chubby fingers, it is ideal to look for something more than three millimeters in width. Five or more millimeters wide can also look great on your fingers.
Ring Shopping Tips for Chubby Fingers
Choose a suitably sized gemstone or ring setting. Think of rings with wider setting.
Remember, a wider setting can provide coverage on the skin, making your finger look smaller. In contrast, a small setting can make the ring look smaller than your fingers and the negative sides of your fingers will be visible.
Moreover, find the right balance that works for the shape of your fingers. Slightly thicker bands will look good on you. However, if it's too thick, it can accentuate the width of your fingers.
As for the cuts, opt for cuts that tend to elongate the fingers. Opt for oval, marquise or pear as they provide a beautiful aesthetic.
Round diamond cut is also perfect if you want that traditional, classic look.
The bottom line is smart shopping can help you find the perfect ring. Don't limit yourself. Take some time to try on a few rings.
Go for vintage if you want that classy, sophisticated statement or go for modern design if you want a flattering look. Pick something that can emphasize the beauty of your hands.