Last Updated on March 24, 2022
Human beings are exactly not alike. The perfect engagement ring for another person may not be perfect for you.
Some engagement rings may look perfect on long fingers but may not look stunning on your petite finger. On that note, it's vital you take into account the finger type and hand shape when shopping for an engagement ring.
What Are The Best Engagement Rings for Small Hands

?
Your choice of engagement ring will end up looking a lot different on your partner's hand. We've put together a list for you to help you find the best ring for your spouse-to-be.
If your soon to be bride has short fingers then you should pick a ring that draws attention away from her fingers. You should aim to make her finger look longer and leaner.
This is possible with elongated diamond shapes, such as an Oval or Marquise. This Marquise Diamond from James Allen can help create an illusion by making the finger look longer and slimmer.
This stunning Marquise diamond can grab people's attention making it perfect to draw away the attention from the negative points of the hand.
In addition, the design of the diamond and the narrow band of the ring will reduce the coverage area of the band, making your finger seem longer.
Engagement ring with smaller stones and understated designs is the best match for petite fingers. This 14K White Gold East West Half Bezel Solitaire Engagement Ring has a sleek and slender design so it's overbearing on your finger.
This simple yet elegant ring will surely grab people's attention!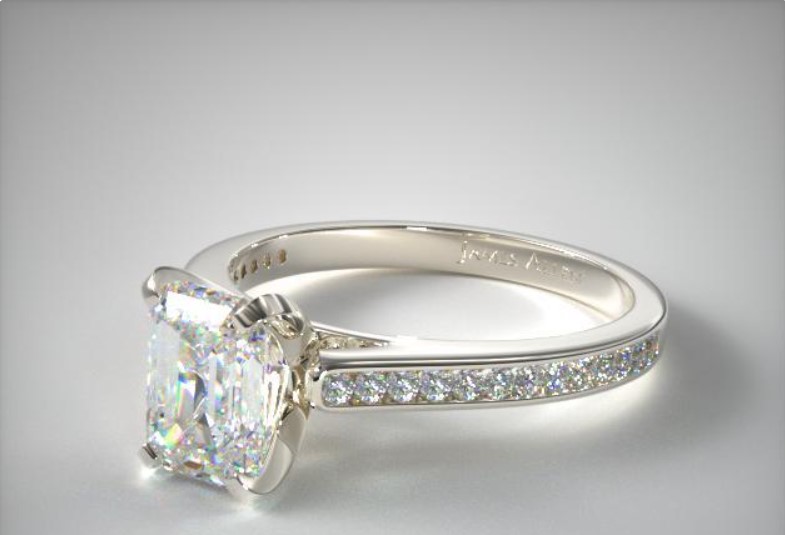 A high-quality Round Brilliant Cut on a simple solitaire setting can look beautiful even for small hands. This 14K White Gold Thin Channel Set Round Shaped Diamond Engagement Ring from James Allen will make your finger stand out with its 26 channel-set round shaped diamonds mounted into the shank around the center diamond.
This is the perfect engagement ring for people who are looking for something classy with sparkly designs.
Buying an engagement ring for people with chubby fingers can be challenging. A ring with a small stone or small band can accentuate the thickness of the finger.
Keep in mind that when buying a ring you need to make sure, the ring will show less of the skin, particularly on the sides of the stone.
With that in mind, this Platinum Pavé Halo Diamond Engagement Ring is one of the best options for you. This beautiful piece features pavé set diamonds on the halo that surrounds the cushion shaped diamond of your choice.
This ring is so stunning that people will focus on the ring & will not notice the shape of the finger of the wearer.
If your partner has large knuckles then stay away from rings with thin bands. This will only make knuckles more visible.
To balance out the look opt for wide or bold bands. Rings with more elaborate settings like 14K White Gold Tapered Baguette Diamond Engagement Ring is the perfect choice for people with large knuckles.
What is a good size diamond for small hands?
Diamonds ranging between . 5 and 1.0 carats is ideal for small hands.
What type of ring looks good on small hands?
Whatever ring style you choose, make sure your ring is sized correctly. Definitely not cute if your skin will bulge around the band. Moreover, you will surely not be happy about it if your ring is too big for your finger since it just keeps on sliding off your finger.
Keep in mind, if you find a ring you like, by all means, go for it. But we highly recommend trying it on and differentiate it with other styles. The important thing is to find an engagement ring that you will love.
What are the cuts to avoid when you have small hands?
If you have small hands then better stay from Square cuts, Heart cuts and Princess cuts. These cuts will only make short fingers look more shorter.
Round cuts, on the other hand, can sometimes work but it really depends on the shape of your hands. If you want to choose this cut, just make sure to get a more dainty center stone.