Last Updated on November 28, 2021
Few things are more impressive than a brilliantly cut diamond.
With impressive sparkles and impeccable clarity, the diamonds featured within the James Allen and Brian Gavin collections set the bar high when it comes to purchasing a high-quality luxury diamond.
But with so many diamonds to choose from, whose diamonds make the cut?
Who are James Allen and Brian Gavin?
James Allen and Brian Gavin are two well known diamond and engagement ring retailers specializing in high-quality diamonds. James Allen and Brian Gavin offer customers the opportunity to select from some of the most elite diamonds in circulation from their upscale collections.
Brian Gavin: World Class Super-Ideal Diamonds
Founded in 2009 by diamond expert Brian Gavin, Brian Gavin Diamonds (BGD) has become a popular luxury engagement retailer specializing in top-tier super-ideal diamonds. With a sizable collection of world class super-ideal diamonds and an exclusive collection of Hearts and Arrows round diamonds, BGD has established a reputation for stocking some of the highest quality diamonds in circulation.
Aside from their impressive collection of super-ideal diamonds, BGD boasts exquisitely cut diamonds with unparalleled light performance using a technique developed over five generations. With extremely strict standards and an eye for detail, the BGD collection is filled with an assortment of world class diamonds with a premium price tag to match.
James Allen: Affordable Luxury Diamonds
Founded by Oded Edelman, James Schultz, Michele Sigler, and Dean Lederman in 2006, James Allen has revolutionized the way customers shop for the perfect engagement ring. With an impressive online collection of over 200,000 stunning natural and lab grown diamonds available through exclusive partnerships, James Allen has quickly become one of the largest and most popular engagement retailers in the last ten years.
Because the James Allen collection is listed exclusively online, customers receive a substantial discount on loose diamonds and engagement rings compared to traditional engagement retailers. Additionally, James Allen allows customers to customize their engagement ring through an assortment of setting options, diamond shapes, and metals.
James Allen vs. Brian Gavin – The Diamonds
James Allen and Brian Gavin list an impressive inventory of high-quality loose diamonds and custom engagement rings. While both jewelers offer brilliantly selected diamonds, there are subtle differences between the two.
Brian Gavin: Signature Diamonds
Brian Gavin sets itself apart from other engagement retailers with its small but impressive collection of super-ideal diamonds. Each collection offered through BGD houses diamonds of the highest quality that are held to extremely strict standards, including the signature line of Hearts and Arrows round diamonds.
BGD stocks a selection of super-elite diamonds in a handful of shapes, including:
Round
Emerald
Marquise
Heart
Additionally, BGD offers a variety of signature collections, including Hearts & Arrows in round, cushion, and quadex, as well as exclusive lines, such as Brian Gavin Emerald and Black by Brian Gavin. Customers who prefer a completely unique ring can choose to design a custom platinum or gold engagement ring by working directly with one of the talented ring designers at BGD.
All diamonds sold through BGD can be viewed online with light performance imagery, which allows customers the opportunity to view each diamond with a 360 degree view. When purchased, a BGD diamond comes complete with a grading report, lifetime upgrade option, and warranty against manufacturer defects.
James Allen: Conflict-Free Diamonds
James Allen prides itself on offering a large variety of conflict-free natural and lab grown diamonds at affordable prices. With diamond options starting at just $200, James Allen is guaranteed to have the perfect diamond for any budget.
Aside from affordable prices, James Allen offers an impressive amount of customizable features, including 10 different diamond shapes, as well as 6 different metal options and designer collections from Danhov, Jeff Cooper, and Martin Flyer.
Additionally, James Allen offers many popular setting styles, including:
Vintage
Channel set
Tension
Three-stone
All diamonds offered through James Allen can be viewed using the exclusive James Allen Diamond Display Technology which allows customers to view HD videos and photographs of diamonds using SuperZoom magnification, plus a 30-day money back guarantee and lifetime warranty that covers manufacturer defects and routine maintenance.
The Shopping Experience
Both James Allen and Brian Gavin allow customers the opportunity to view their extensive collections online. With easy access to thousands of high-quality images and videos, James Allen and Brian Gavin create a streamlined process for finding the perfect diamond.
Brian Gavin Experience
Shopping with BGD begins with browsing through the impressive collection of super-ideal diamonds. Customers can explore the unique collection at BGD by using the Find a Diamond option and filter their diamond search using a handful of parameters, including diamond shape, size, cut, clarity, and price, or browse by collection, including the Brian Gavin Blue and Brian Gavin Cape collections.
After filtering the search, a customer can view a selected diamond through photographs and high quality videos to see each small and unique detail on the diamond face. Once a diamond has been selected, a customer can either purchase the loose diamond, or move forward to select a setting or pendant to house the diamond, which can also be filtered by price, designer, metal type, or rating.
For questions, BGD offers live 27/7 chat support, as well as live customer support over the phone during selected hours. Additionally, BGD offers flexible buying options, including Affirm Financing, which allows customers to select payment options ranging from 3 to 26 months with 10-30% APR.
James Allen Experience
James Allen has created a truly streamlined approach to finding the perfect diamond. Using a simple three-step process, a customer can start by either selecting a diamond or choosing the perfect setting. Both diamonds and settings can be filtered using a variety of criteria, including style, metal type, shape, and price. Additionally, diamonds can be filtered by natural or lab grown, as well as carat and clarity.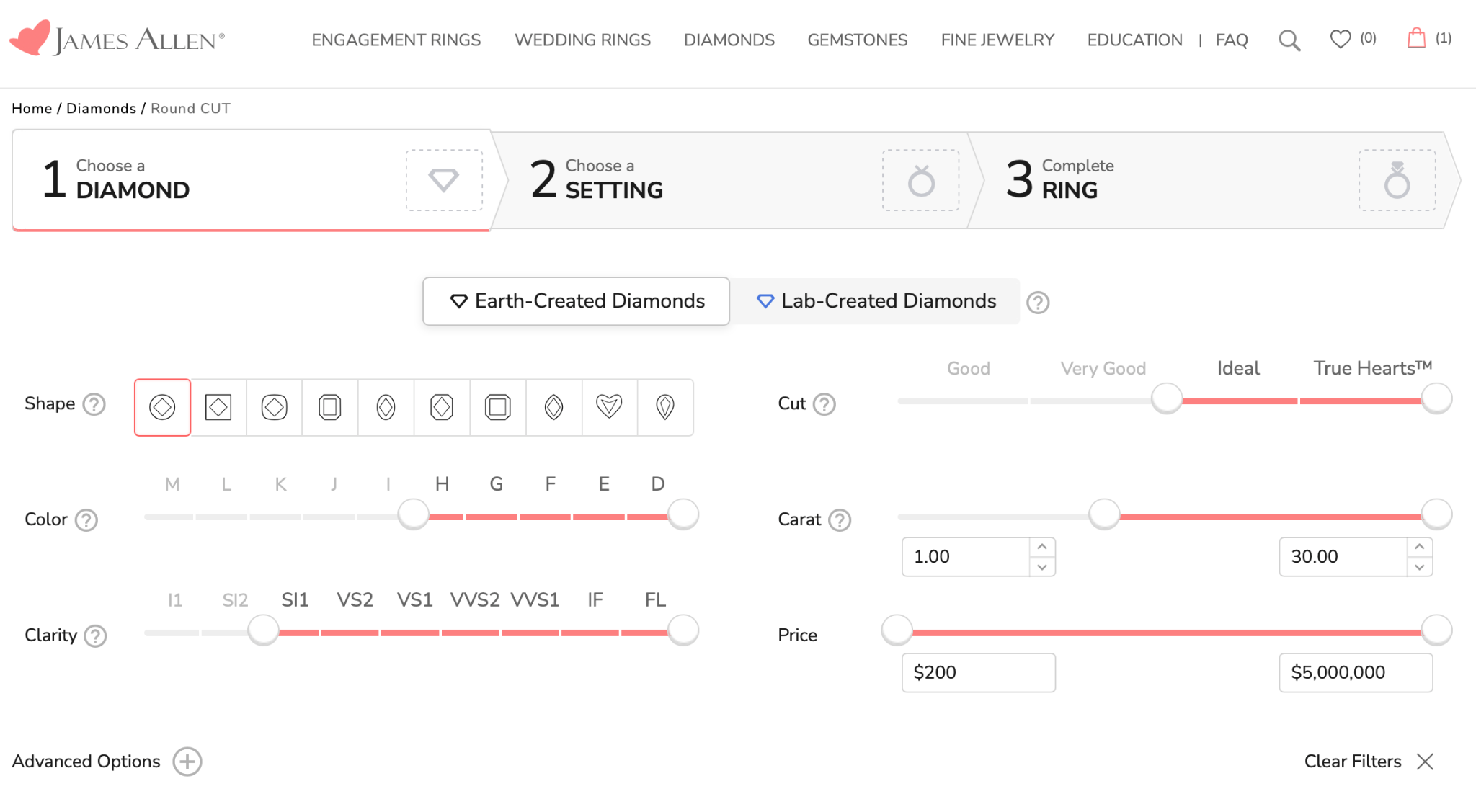 A James Allen customer can either complete their order or add an additional custom engraving. Orders are shipped via FedEx Priority Overnight or FedEx Two Day Saver both domestically and internationally and include a lifetime warranty, one year of free ring resizing, and hassle-free returns.
For customers interested in financing, James Allen offers a variety of payment options, such as the James Allen's 6 month no-interest or 24 month payment plan. Additionally, James Allen offers a 1.5% discount for payments made via wire transfer and has 24/7 live chat, email, and telephone support available to address any questions or concerns.
The Final Verdict – James Allen vs. Brian Gavin
Both James Allen and Brian Gavin offer unique collections of high-quality diamonds.
While Brian Gavin has developed an impressive inventory of super-ideal diamonds, their collection is limited and budget can play a big factor in determining who can afford one of their luxury rings.
But with an astounding inventory of over 200,000 competitively priced conflict-free diamonds, an array of customizable options, and financing for every budget, James Allen has reshaped the engagement ring industry and set the stage for buyers of all budgets to find the perfect engagement ring.