Last Updated on October 1, 2022
Shopping for an engagement ring is easier than ever with online engagement retailers popping up across the internet.
With hundreds of retail options available, customers shopping for an engagement ring will find no shortage of retail options available.
Best Places To Buy An Engagement Ring Online
When it comes to shopping online for the perfect engagement ring, some retailers just get it right. Our favorites include:
James Allen
Brilliant Earth
Blue Nile
Brian Gavin
Whiteflash
Littman Jewelers
Let's take a look at how each of these engagement retailers compares to each other and who offers the most high-quality, budget-friendly, and specialty engagement rings within the industry.
Winners: Budget Friendly
Customers know that finding the perfect engagement ring within your budget can be challenging, but luckily these two online engagement retailers offer exceptionally priced diamonds and engagement rings for any budget.
James Allen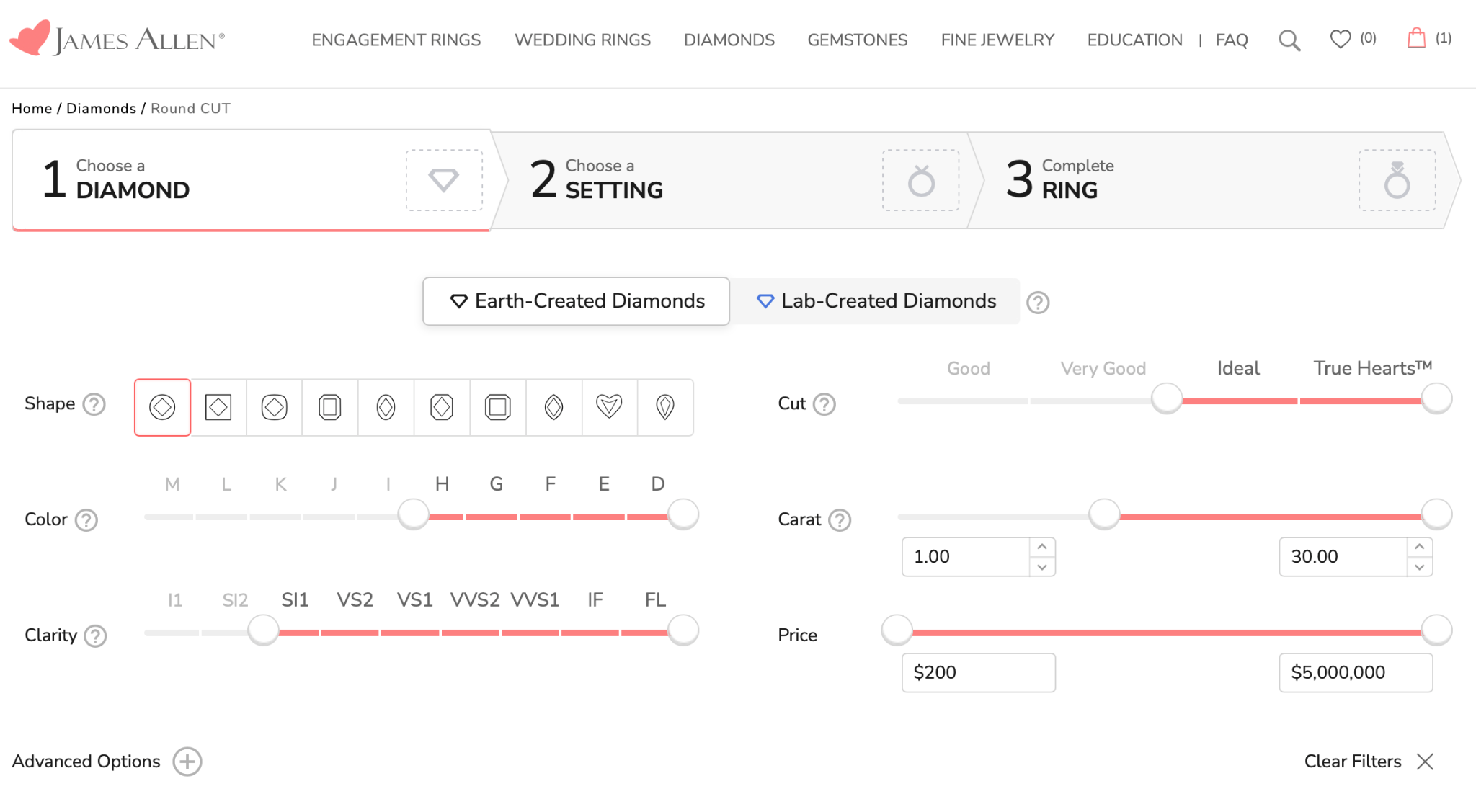 Popular online engagement retailer James Allen offers an astounding collection of over 200,000 diamonds that can be used to create the perfect engagement ring with any budget.
All diamonds sold through James Allen come with a Conflict-Free guarantee and are high-quality. The best part? Customers can view James Allen diamonds using exclusive 360 Degree Diamond Display Technology, which allows customers to zoom into diamonds up to 40x using superzoom to see even the smallest of details on the diamond face.
The James Allen shopping experience is completely customizable and begins with selecting either a diamond or a setting in some of the most popular styles.
James Allen offers a variety of diamond shapes, including:
If choosing the design based on setting options, customers can select from options, such as:
James Allen also offers more than most retailers, including a generous lifetime warranty, free shipping on orders and returns, complimentary ring resizing, and free engraving, making James Allen the biggest bang for your buck!
Customers can reach the talented team of customer support specialists 24/7 via live chat, email, and telephone.
Littman Jewelers
Navigating the waters of both brick-and-mortar storefronts and the online retail space, Littman Jewelers is a popular name for affordably priced and high-quality engagement jewelry.
Littman Jewelers offers a modest collection of pre-designed and designer engagement rings starting at just $146, making the retailer the perfect option for customers on a budget. Diamonds sold through Littman Jewelers are Responsible Jewelry Council certified.
Littman Jewelers also provides an extensive library of educational material that customers can access at their leisure, as well as a team of highly-trained diamond professionals ready to help customers pick out the perfect piece of jewelry.
Engagement ring options from Littman Jewelers include popular metal options, such as:
White/Yellow/Rose Golds
Sterling Silver
Platinum
Diamond shapes come in a variety of options, including popular shapes like:
Littman Jewelers upholds its commitment to serving customers by offering a 60-day return policy, as well as free jewelry inspection and cleaning. Customers can also upgrade to the Lifetime Jewelry Care Plan for repairs, parts, and routine maintenance.
Customers can reach Littman Jewelers for questions and assistance via telephone and email.
Winners: Top Quality
The perfect engagement ring comes with a top-tier diamond to match. Engagement retailers Blue Nile and Whiteflash offer high-quality diamonds and engagement rings guaranteed to last the length of your love.
Blue Nile: Exceptional Clarity
Blue Nile is one of the most well-known online engagement retailers. In fact, Blue Nile is the original online engagement retailer and remains the leading retailer for online engagement sales.
So what makes a Blue Nile diamond so special? Aside from being a member of the Kimberley Process, Blue Nile stocks Conflict-Free high-quality diamonds with outstanding clarity complete with GIA or AGS grading reports.
Customers shopping with Blue Nile can build a completely customizable engagement ring by selecting a diamond or setting and building from there, as well as enjoy seasonal discounts.
Blue Nile offers popular diamond shapes, including:
Setting options are plentiful at Blue Nile and include trendy options, such as:
Customers will be pleasantly surprised to discover that a diamond from Blue Nile starts at just $260 and comes with free returns and a lifetime warranty to ensure each ring sold lives up to the outstanding reputation built by Blue Nile.
The talented team of Blue Nile customer service representatives is ready to assist customers with their diamond buying needs and is available via text, chat, email, and telephone.
Whiteflash: Ideal Diamonds
Whiteflash has made quite the name for itself as the leading engagement retailer for ideal cut diamonds. With a large inventory of over 33,000 diamonds, Whiteflash offers high-end and ethically sourced diamonds that complete the perfect engagement ring.
Diamonds sold through Whiteflash are not only ideal cut, but are ethically sourced and expertly crafted for performance and craftsmanship. Whiteflash also offers a large collection of certified AGS ideal diamonds in round and princess cuts.
Customers shopping with Whiteflash will be impressed with the large selection of pre-designed and designer engagement rings starting at just $555.
Whiteflash offers popular diamond shapes, including:
Engagement rings come in a variety of metal options, such as:
Platinum
Yellow Gold
Rose Gold
Winners: Niche
Whiteflash reinforces its commitment to excellence by offering the Whiteflash Guarantee which allows customers to return items within 30 days. Engagement rings also come with a complimentary ring sizing and 12-month service guarantee.
Whiteflash customers can schedule a diamond consult or reach customer service via live chat, email, and telephone.
Customers looking for a unique and dazzling engagement ring need look no further than two popular online engagement retails specializing in niche engagement rings.
Customers shopping for the perfect eco-friendly engagement ring will be impressed with the large collection offered by Brilliant Earth. Stocked full of Beyond Conflict-Free vintage, antique, and recycled stones, Brilliant Earth is an eco-friendly shopper's paradise.
Each diamond sold through Brilliant Earth adheres to the Kimberley Process and is of exceptional quality. Suppliers working with Brilliant Earth also support the retailer's initiative to reduce human rights abuse, worker exploitation, and environmental degradation.
The Brilliant Earth shopping experience is completely customizable and begins by selecting either a diamond or setting.
Setting options offered by Brilliant Earth include unique styles, such as:
Nature Inspired
Vintage
Luxe
Diamond options include a variety of popular shapes, including:
To protect their unique rings, Brilliant Earth offers a complimentary ring resizing within the first 60 days, a lifetime warranty, 30-day for returns, and a three-year Extended Service Plan.
Brilliant Earth customers can reach customer support via chat, email, and telephone. Additionally, customers can visit one of the many Brilliant Earth showrooms or schedule a virtual appointment online.
Brian Gavin
Popular luxury-diamond retailer Brian Gavin Diamonds (BGD) has earned a reputation for stocking some of the highest quality diamonds in the industry.
Customers looking for the ultimate luxurious engagement ring experience will appreciate the exquisite cut and exceptional quality of BGD top-tier super-ideal diamonds. Diamonds sold through BGD have unparalleled light performance and live up to incredibly strict quality standards.
Customers shopping with BGD can create a custom engagement ring or browse signature collections.
Super-elite diamond options offered through BGD include shapes such as:
BGD offers a variety of metal options, including:
Rose Gold
Yellow Gold
Platinum
Customers can also view all BGD diamonds in full 360 degree view using light performance imagery to see the full beauty of each magnificent diamond available through the luxury retailer.
Customers looking to get into contact with BGD can reach customer service via phone and email with questions and order requests.
What Makes Each Retailer Special?
Each online engagement jeweler is known for something special, such as:
Blue Nile: The Original
Whiteflash: Elite Craftsmanship
James Allen: Complete Customization
Littman Jewelers: Customer Education
Brilliant Earth: Social Responsibility
Brian Gavin: Unparalleled Quality
Here's what sets the six retailers apart from each other:
Blue Nile
Blue Nile is the original online engagement retailer with all other online engagement retailers following in the footsteps of Blue Nile. With an impeccable reputation and an impressive collection of over 150,000 diamonds, Blue Nile is the true OG of the online diamond industry.
Whiteflash
Few retailers can compete with the craftsmanship and performance of Whiteflash diamonds. The retailer's large collection of AGS-certified ideal diamonds makes it a unique choice for customers looking for a high-performance diamond ring.
James Allen
No engagement retailer can compete with the inventory and customizability offered by James Allen. Paired with an incredibly generous warranty, 24/7 customer service support, fast shipping time and a team of talented diamond experts, James Allen is the queen of customizable engagement rings.
Littman Jewelers
Customer education is a top priority for Littman Jewelers. The retailer has invested time and energy in helping customers learn the ins and outs of the diamond industry through their impressive library of educational resources.
Brilliant Earth
Committed to creating a more equitable and sustainable diamond industry, Brilliant Earth is the leading retailer when it comes to eco-friendly and sustainably sourced engagement jewelry. Few engagement retailers are as committed as Brilliant Earth to keeping the planet safe one diamond at a time.
Brian Gavin
Known as the top retailer for super-ideal diamonds, Brian Gavin has spent five generations perfecting the ultimate technique to create diamonds with unparalleled light quality. Diamonds offered through Brian Gavin are truly stunning and unique.
How To Choose The Right Online Engagement Retailer
With so many retailer options to choose from, it's time to ask a few questions before purchasing the perfect diamond engagement ring.
#1: What Are You Looking For In A Ring?
Picking the perfect engagement retailer begins with a vision.
For customers looking for a completely customizable ring, James Allen and Blue Nile are exceptional choices for completely customizable and high-quality diamond engagement rings.
#2: What Is Your Budget?
Budget plays a big factor when deciding where to purchase an engagement ring.
Customers looking for the ultimate luxury experience will enjoy the upscale collections offered by Brian Gavin and Whiteflash. For those on a budget, James Allen and Littman Jewelers are excellent choices for high-quality diamonds at an affordable price.
#3: What Qualities Matter To You?
Purchasing a diamond engagement ring comes with a lot of social responsibility.
For customers looking for a unique engagement ring with a moral agenda, Brilliant Earth is the top retailer when it comes to purchasing ethically sourced diamonds and engagement jewelry. Blue Nile and James Allen are great alternatives that uphold a strong ethical code of conduct with more versatility.
Overview
Customers shopping online for an engagement ring will be met with a variety of retailer options. While online engagement retailers are plenty, they are not all created equally.
Remember:
Shop retailers such as Brian Gavin and Brilliant Earth for niche collections that include eco-friendly rings and super-ideal diamonds.
Shop retailers such James Allen and Littman Jewelers for the best bang for your buck.
Shop retailers such as Blue Nile and Whiteflash for top-tier diamonds at a variety of prices.
Whichever retailer you choose, select diamonds that meet your budget, ethics, and vision to guarantee the perfect purchase that will stand the test of time.